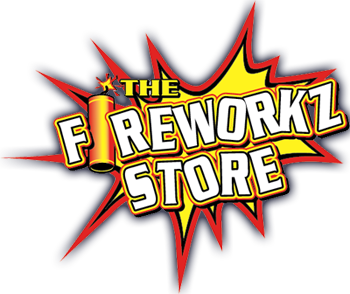 TUESDAY, JUNE 27, 2023
10:00am – 10:00pm all locations
WEDNESDAY, JUNE 28, 2023
10:00am – 10:00pm all locations
THURSDAY, JUNE 29, 2023
10:00am – 10:00pm all locations
FRIDAY, JUNE 30, 2023
10:00am – 10:00pm all locations
SATURDAY, JULY 1, 2023
10:00am – 10:00pm all locations
SUNDAY, JULY 2, 2023
10:00am – 10:00pm all locations
MONDAY, JULY 3, 2023
10:00am – 10:00pm all locations
TUESDAY, JULY 4, 2023
10:00am – 10:00pm all locations
WEDNESDAY, JULY 5, 2023
10:00am – 10:00pm all locations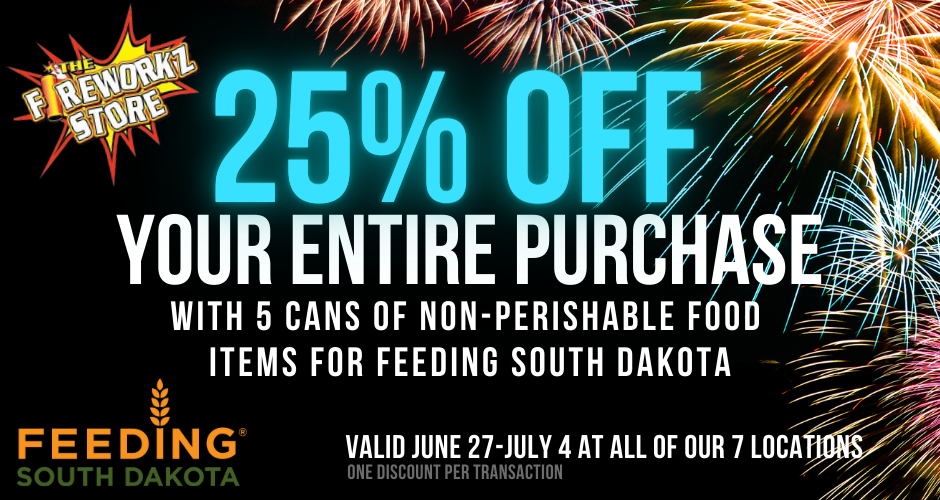 We partner with Feeding South Dakota  throughout the year.
Join us to help improve the lives of our South Dakota neighbors.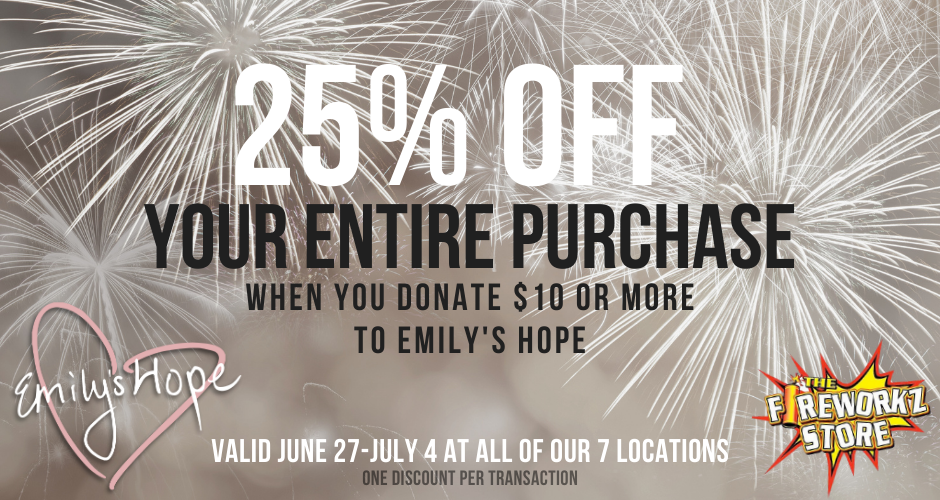 We partner with Emily's Hope throughout the year.
Please join us in turning heartbreak into action.

Your safety is our #1 priority here a The Fireworkz Store. Our crew takes fireworks safety very seriously and want you to celebrate safely as well. Not only will our staff educate you on our products, we will also answer any questions you may have. Never hesitate to ask before you set it off!
Below are a few tips on fireworks safety.
Always read and follow label directions.

Have an adult present.

Buy from reliable sellers.

Use outdoors only.

Always have water handy (a garden hose and a bucket).

Never experiment or make your own fireworks.

Light only one firework at a time.

Never re-light a "dud" firework (wait 15 to 20 minutes and then soak it in a bucket of water).

Never give fireworks to small children.

If necessary, store fireworks in a cool, dry place. Dispose of fireworks properly by soaking them in water and then disposing of them in your trashcan.

Never throw or point fireworks at other people.

Never carry fireworks in your pocket.

Never shoot fireworks in metal or glass containers.

The shooter should always wear eye protection and never have any part of the body over the firework.

Stay away from illegal explosives.
For more information please visit The Consumer Product Safety Commission and The National Council on Fireworks Safety.
Fireworks Set to Music:
Your Celebration in the Sky
Fireworks are a beautiful way to make your wedding, celebration or event even more memorable. Now you can pair your beautiful fireworks with your favorite song! Each show features a perfectly timed fireworks display set to music. Each display is designed specifically for you, your partner and/or your team's input – a truly memorable extravaganza!
We have

 

fun

 

and

 

cost effective

 

options for your budget.
Set your budget and we can work with it. Then choose from a variety of songs and illuminate the sky with stunning pyrotechnics from multiple directions. Most displays last 3-4 minutes with a high intensity, highly-precise pyromusical display.
Weddings
The Fireworkz Store is a professional wedding fireworks display provider with years of experience providing safe and breathtaking fireworks shows for brides & grooms all over the Sioux Empire area. We have worked with many different wedding planners, vendors, and venues. The Fireworkz Store is fully insured and licensed in the state of South Dakota. To make sure your wedding is extraordinary, contact the professionals at The Fireworkz Store and lets discuss your location and date.
We also provide our clients with fog, flame, & confetti systems, sound and lighting, staging, special effects, and much, much more. Together we can incorporate your wedding ideas into a complete package – for one affordable price.
PUBLIC EVENTS
A traditional outdoor production put on by The Fireworkz Store is a complete sensory experience unlike anything else! These displays include a variety of shells and high-intensity multi-shot devices that awe and inspire. They include some of the largest displays in South Dakota and will leave you wanting to find the next show we put on.
The Fireworkz Store
South Dakota
6 Locations in 2023
All Location Hours
10:00am – 10:00pm